Winter Tours of Yellowstone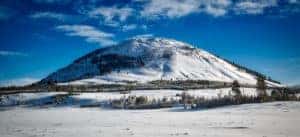 When it comes to experiencing the beauty of Yellowstone in the winter, numerous opportunities exist to get your adventure fix in the winter. From cross country skiing, snowmobile tours, snowcoach or snowshoes, there is a way for everyone with the spirit of adventure and can-do spirit that comes with being outdoors in the winter. Explore some of the options for yourself to decide which way appeals to you most and let the planning start from there. Yellowstone in the winter is a beautiful thing that isn't seen by many people, you are one easy decision away from being one of those lucky few.
Guided or Unguided?
When it comes to your winter tour, self guided or professionally guided is a variable the deserves some careful consideration. For those less experienced in their chosen method of travel, whether that is snowmobile, skiing, snowshoeing, or any other method, choosing a licensed, professional guide is a way to ensure that you will be well taken care of throughout the duration of your trip. For those more experienced, self-guided may give you the freedom that you are looking for to go where you want when you want. However, for self guided tours, following park rules and etiquette is paramount to ensuring your safety and the safety of those with you.
Accessing the Park in the Winter
No matter where you approach the park, there is likely to be an access point that can accommodate you for your wintertime adventure. Whether you access the park from West Yellowstone, Jackson, or Cody, there is an entrance point where you can purchase the appropriate pass and receive helpful information about conditions in the park at the current time of your winter tour. The information contained in the paperwork is designed to ensure that your visit will be safe as well as enjoyable; use it appropriately. No matter where and how you choose to enjoy Yellowstone in the winter, a trip of a lifetime is waiting for you. Doing the legwork and research upfront will ensure that the your trip will be unforgettable.