Winter Hiking in Montana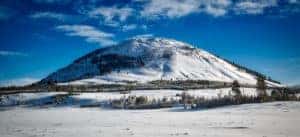 With so many breathtaking landscapes in the Big Sky State, it only stands to reason that people are constantly looking for ways to get outside and enjoy all that the state has to offer. While summer activities are pretty self explanatory, winter activities can be challenging due to the changing weather conditions, road conditions, and snow levels. A great way for just about anyone to get outdoors in the winter to enjoy the day, or even as an overnight trip, is winter hiking. Whether your goal is exercise, wildlife, or just getting away from it all, you can find a great location close to wherever you call home.
Areas Around Bozeman
When it comes to winter hiking near Bozeman, you are close to some of the best places in the world to spend a cold winter morning afoot. The Bozeman Creek Trail offers a perfect choose your own pace trail that allows you to hike up to 16 miles close to home or your dorm room.
Glacier National Park
For those looking to get out and enjoy everything that Glacier National Park has to offer in the winter, a great place to start is a hike on the Red Eagle Trail. This is a great trail to spend time on foot or on skis and to really get off of the beaten path. Whether you are a beginner, or experienced outdoors person, the Red Eagle Trail is the place for you.
Gallatin Gateway
For a truly breathtaking winter view, the Lava Lake Trail will give you a view like none other. The frozen lake, close proximity to the mountain sides, and winter landscape will make your hike here one for the memory books.
Other Winter Hikes in Montana
No matter where you live in Montana, there is sure to be a location close to where you call home that you can get out and take a hike any time of the year. From Billings to Bozeman and anywhere else, Montana is the perfect place to get outdoors and put some miles on your snow boots. Take the time this winter to get in contact with the local forest service, BLM, visitor center, or get online and learn what is out there in this great state that we live in.