Wilsall Rodeo
Wilsall Rodeo
In 1916 the town of Wilsall, Montana has had a population of nearly 1300 people. This small town included two banks, three-grain elevators, three stores, two hotels, a bakery, two hospitals, a flour mill, three lumber yards, three churches, and unbelievably the town had its own paid baseball team.
In 1953 a small group of townspeople developed a plan to put on a rodeo. There was a town meeting with about 30 people in attendance and from there the rodeo became a yearly occurrence. Today about 150 members make up the Wilsall Rodeo Committee that produces one of the best small-town rodeos in the country.
To earn income to get the rodeo in production, shares of stock were sold and the money was then used to erect the chutes and arena.  In the Spring of 1954, the chutes and arena were built. The first rodeo took place on June 29th, 1954. The rodeo was a huge success and has continued to draw a large crowd every year since its founding.
In 1958, the rodeo became a two-day event, with many locals who were eager to become a part of the rodeo. The Rodeo events are amateur, but many of the riders have gone on to professional rodeo careers.
Demonstrating the best cowboy and cowgirl in rodeo, events take place mid-June in the small ranching community of Wilsall, Montana. The Wilsall Rodeo offers a barbeque and parade with the Northern Rodeo Association as a sanctioned event. The Women of Wilsall provide the food for the concessions at the rodeo.
The events include entertainment for everyone!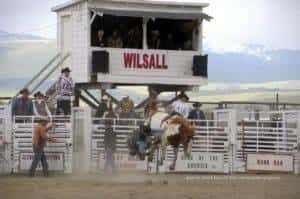 Bareback Bronc Riding
Bull Riding
Cowgirl's Barrel Racing
Cowgirl's Breakaway Roping
Saddle Bronc Riding
Steer Wrestling
Team Roping
Tie Down Roping
If you would like more information on the Wilsall Rodeo and how you can become involved please click HERE.