What You Need to Know About The 2018 Chevrolet Equinox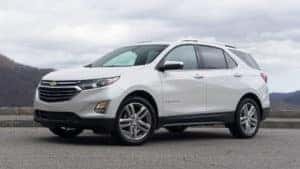 A great looking, fun to drive compact SUV is as close as Ressler Motors when it comes to the 2018 Chevrolet Equinox. Whether you are looking for your first vehicle or looking to add another vehicle to the family, the Equinox is a great addition to any situation. Take a look at a few of the reasons that your next new vehicle should be a 2018 Chevrolet Equinox, and decide for yourself if it checks all of the boxes on your wishlist. We are pretty sure that it will.
Get More Value and More Miles at the Pump
In a world of increasing fuel prices, getting better fuel economy is the difference between a good vehicle and a great one. With that in mind, the 2018 Chevrolet Equinox offers up more ways to get great fuel economy. Choose the outstanding and efficient 1.6L Turbo Diesel engine option and get an efficient EPA estimated 39 mpg highway economy. That means that you can spend more time at the road and less time at the pump in your new 2018 Chevrolet Equinox. If doesnt get any better than that.
Better Than The Competition
With so many options on the market in terms of compact SUVs, it takes something truly special to stand out from the crowd. Thankfully, the 2018 Chevrolet Equinox leaves the competition in the dust. When it comes out standard and available features, the Equinox is the clear winner. That is because when you choose the Equinox, you get features like heated rear seats, surround vision, and 4G LTE WiFi. Leave the competition in the dust and find your new 2018 Chevrolet Equinox at Ressler Motors.
Why Look Elsewhere?
If you knew that you could get the right vehicle for the right price and save on the time it takes to find it, would you? Getting the best price possible on the best compact SUV on the market is as simple as finding your way to the lot of Ressler Motors. That is because we carry a great selection of outstanding vehicles like the 2018 Chevrolet Equinox. Find your next new vehicle with us, and never settle for substandard service or selection every again when you shop with Ressler.