Used Toyota Sienna Near Bozeman, MT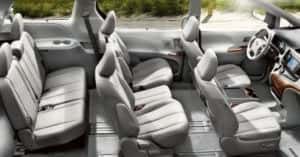 When you need more seating space for your growing family or simply more room to stretch out your legs for that long road trip, a Toyota Sienna gives you a stylish way to do exactly that. At Ressler Motors, you are going to have access to a wide selection of used vehicles that will give you more space, more fuel economy, and more reasons to take that long road trip next summer. Better yet, you are going to get a relaxed shopping environment to give you the space that you need to shop in comfort. Come experience a better way to shop for your next used vehicle. Experience Ressler Motors.
A Great Deal No Matter How You Look At It
While you already may know that Ressler Motors offers a relaxed shopping environment to find your next vehicle, you may not know that we have an outstanding selection of used vehicles to meet all of your shopping needs. All of the vehicles available on our Bozeman lot look great, are dependable, and are exactly what you are looking for. With affordable pricing and great financing offer available to you, a used vehicle like the Toyota Sienna is a great deal no matter how you look at it from Ressler Motors.
More Reasons To Say Yes
If you have spent any amount of time at all in a Toyota Sienna, you know that the comfort, legroom, and pure drivability are enough to say yes to bringing one home. When you combine that with a relaxed shopping environment, competitive pricing, and friendly sales staff that you will find at Ressler Motors, there are more than enough reasons to bring one home. Come take a look at the selection that we currently have available in person, or check them out on our easy to navigate website, and make the Sienna your first choice for a used vehicle this winter.