Snowmobile Tours in Yellowstone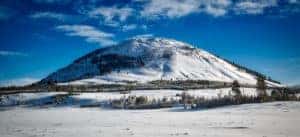 If you have been on the lookout for a unique way to visit Yellowstone in the winter, a snowmobile tour will give you a whole new perspective on Yellowstone once the crowds of summer leave. Imagine yourself on a snowmobile on the fresh powder of a recent snowfall seeing the park in all of its glory the way only few can claim to have seen. It's a pretty exciting thought, isn't it? If you would like to experience Yellowstone from the seat of a snowmobile, this winter is a great time to have the adventure that you have always wanted.
Guided or Unguided In Yellowstone?
Gone are the days of needing a professional guide to snowmobile within the limits of Yellowstone Park. Whether you choose to hire a licensed commercial guide or go it alone, there are some considerations that must be taken to ensure that you are not only safe but legal as well. When you hire a professional guide, they take care of many of the things that you might not think of. From securing lodging, shuttles, permits and other necessities to ensuring that you get where you need to go and back home again safely, a professional guide is a great way for beginners and intermediate snowmobilers to get out on the trails of Yellowstone. Self-guided snowmobile trips offer a unique way for expert or skilled snowmobile enthusiasts to get a little more freedom to choose their own schedule and routes of travel within the trail system. Special permitting and other aspects are required that must be thoroughly researched and followed for this type of tour. Check with park offices and professionals in the area to ensure that your self-guided trip is fun, safe, and legal before setting out.
Accessing the Park in the Winter
When it comes to getting access to the park in the winter, standard entrance fees still apply. There are access points at all major gates to the park for those with guides and those without. Along with the access, there are also many outfitters and rental locations that can help you choose the snowmobile and equipment that you need to have an enjoyable, safe experience no matter which entrance you take. Whether you enter through Jackson, West Yellowstone, or Cody, you are sure to have an experience that you will remember for a lifetime seeing the natural breathtaking beauty of Yellowstone in the winter. Come have an adventure with us this winter.