***Walk-ins only. Thank you for understanding***
Service you can Trust
Since 1999, the Ressler Quick Lube in Bozeman has been providing Quick Lube services to the Gallatin Valley.  You can trust that all services performed are done by highly trained technicians using 'state of the art' equipment. We use the latest diagnostic technology to provide you accurate and timely services so you can drive away with confidence. Here at Ressler Quick Lube we take pride in providing high quality, trustworthy service. We aim to exceed your expectations and we will work hard to earn your trust on your next visit and throughout the life of your vehicle.
Dependable Service
Our Ressler Quick Lube technicians strive to serve our customers with the highest level of respect, trust, and confidence. We appreciate your patience as our number one priority is completing your vehicle's required maintenance to a high standard of safety and reliability. The services we currently offer are listed below, followed by our current prices.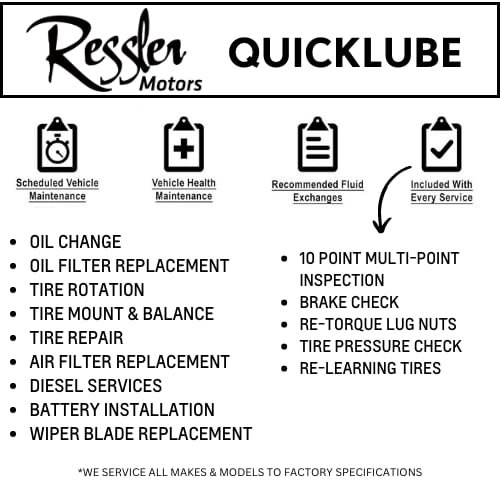 ---
Quicklube Service Pricing - Oil Change/Tire Rotations
Oil Change & Tire Rotation (Dexos 1 5/30)

$89.95 - $99.95*
Tire Rotation Only $24.95
Tire Balance $59.95**
Mount/Balance Tires $28/ea
Tire Disposal Fee $6/ea
Tire Repair $32.40
                    *Pricing dependent on quantity (6 qts or less / more than 6 qts)
                     **Rotation included if necessary
Quicklube Service Pricing - 4WD Services
Front Differential Fluid Change 

$84.95
Transfer Case Fluid Change $75.95
Rear Differential Fluid Change $89.95
Quicklube Service Pricing - Fluid Exchange Services
Transmission Fluid Exchange 

$199.95
Brake Fluid Exchange $129.95
Fuel Induction/Carbon Cleaning $159.95
Coolant System Fluid Exchange $169.95
Power Steering Fluid Exchange $129.95
Quicklube Service Pricing - Air Filters
Gas Engine Air Filter  

$49.95
Diesel Engine Air Filter $89.95
Cabin Air Filter $64.95
Quicklube Service Pricing - Belts
Serpentine Belt  

$139.95
Air Conditioning Belt $79.95
Quicklube Service Pricing - Wiper Blades
AC Delco Multi Fit Blades 

$42.95
  *General Motors OEM blades pricing will vary, please contact our Parts department at (406) 587-5501.
Quicklube Service Pricing - Spark Plugs/Wires
8 Cylinder Engine 

$469.95
6 Cylinder Engine $399.95
4 Cylinder Engine $169.95
Quicklube Service Pricing - Brakes
General Motors OEM Brake Pads $349.95*

General Motors OEM Brake Rotors 

$300*
AC Delco Pro Grade Brake Pads $249.95*
AC Delco Pro Grade Brake Rotors $225*
AC Delco Advantage Brake Pads $199.95*
AC Delco Advantage Brake Rotors $150*
*High performance vehicles and dual rear-wheel trucks will need to be quoted by an advisor
Quicklube Service Pricing - Batteries
AC Delco Silver Series Battery 

$160
AC Delco Gold Series Battery $175
AC Delco Batteries include a (parts only) Replacement Warranty for 30 months (Silver Series) or 42 months (Gold Series).
Environmental Fee is in addition to service and will be calculated ($40 maximum) based on labor cost.
---
Prolong the Life of your Vehicle 
Regular vehicle maintenance is vital to prolonging the life of your vehicle. Scheduled services are just one way to ensure a long, trouble free driving experience. Of course every vehicle is not created equal. We perform a thorough 10 point multi-point inspection on every vehicle to check the health and well-being of your vehicle. This inspection is included with every service we do here at Ressler Quick Lube because we believe knowing your vehicle's health will increase the life expectancy. We want a customer for life and we work hard to provide you with precise knowledge and trained technicians to prolong the life of your vehicle. 
Stop in for your service today and put your trust in Ressler Quick Lube.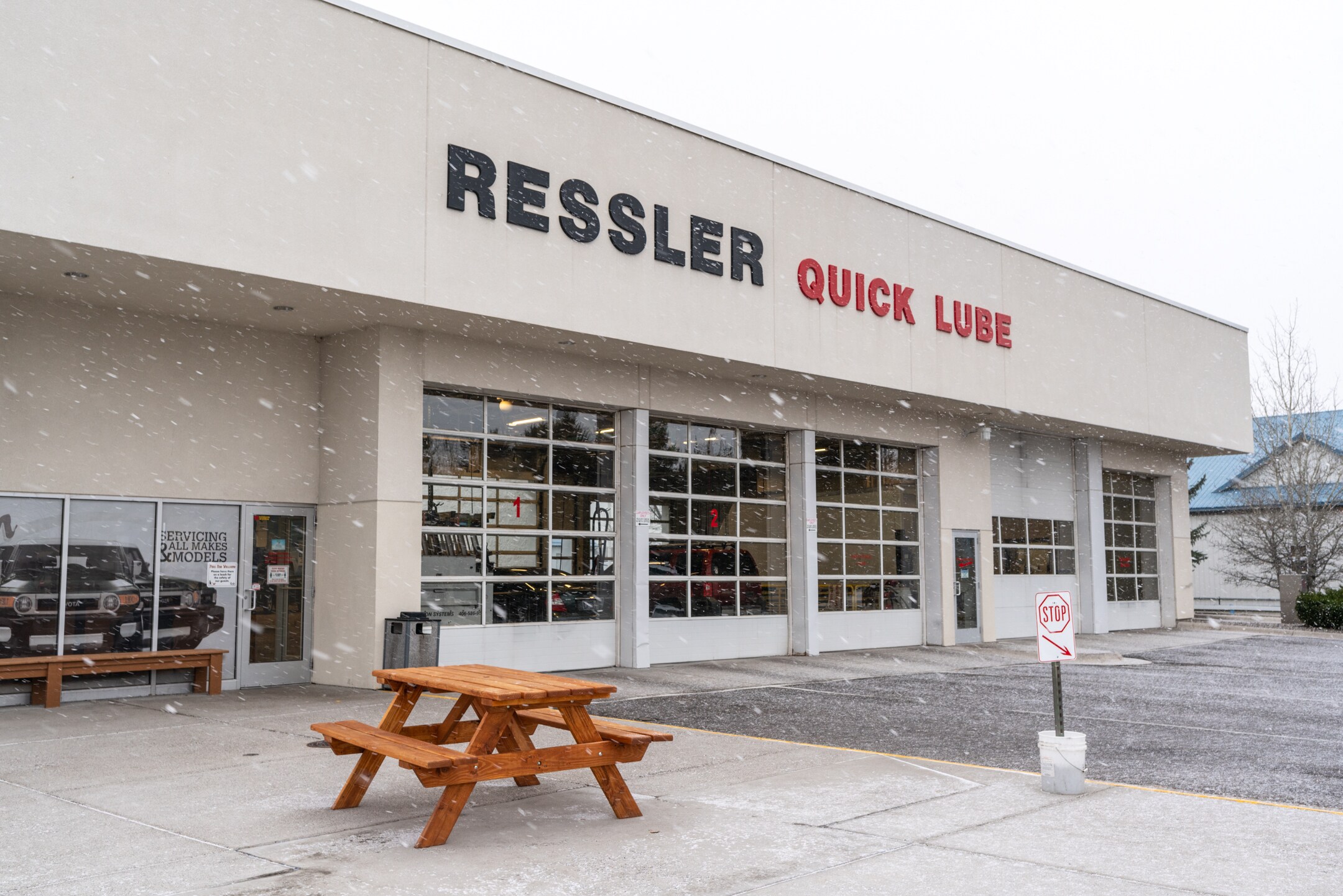 Contact
Phone: 
406.586.2015
Address: 
8470 Huffine Ln,                    Bozeman, MT 59718
Hours
Monday

7:30AM - 4:30PM

Tuesday

7:30AM - 4:30PM

Wednesday

7:30AM - 4:30PM

Thursday

7:30AM - 4:30PM

Friday

7:30AM - 4:30PM

Saturday

8:00AM - 12:00 PM

Sunday

Closed
FAQs
How often do I change my oil?
Every vehicle is different depending on the oil that is used. Oil changes can range anywhere between 3 months/ 3,000 miles to 1 year/ 10,000 miles. We would be happy to tell you the exact recommendation that fits your vehicle.
How long does an oil change service take?
A standard oil change can take about 30 minutes to an hour depending on the vehicle and  added services. Most of our services happen on a first come, first serve basis. This can create a waiting time for services, please understand that we will do as much as possible to accommodate your needs to the best of our abilities.  
What type of oil do I use?
We carry the traditional oil types including conventional and full synthetic. We use the correct oil for your vehicle and make suggestions as needed based on make, model, and mileage. 
What's all included in my service?
No matter what service you have done you will always receive; a thorough 10 point multi-point inspection, re-torque lug nuts, tire pressure check, break check, and a car wash, if wanted.
What does the multi-point inspection check?
Our 10 point multi-point inspection checks over all of the necessary areas of your vehicle to make sure you can drive the roads safely. The areas we check are On-star diagnostics, engine oil & filter, lights, battery, systems, fluids & visible leaks, tire inspection, brake inspection, visible & functional inspections.
Why doesn't my oil life monitor match my next service sticker?
Your vehicle oil life monitor is based off of mileage. It does not take into account the harsh weather and driving conditions that we have here in Montana.