Service you can Trust
Since 1999, the Ressler Quick Lube in Bozeman has been providing Quick Lube services to the Gallatin Valley.  You can trust that all services performed are done by highly trained technicians using 'state of the art' equipment. We use the latest diagnostic technology to provide you accurate and timely services so you can drive away with confidence. Here at Ressler Quick Lube we take pride in providing high quality, trustworthy service. We aim to exceed your expectations and we will work hard to earn your trust on your next visit and throughout the life of your vehicle.
Dependable Service
All services done at Ressler Quick Lube will be done with the highest level of respect, trust, and confidence. It is our promise to you that we will complete any service to your satisfaction. Please take a look at our service selection below.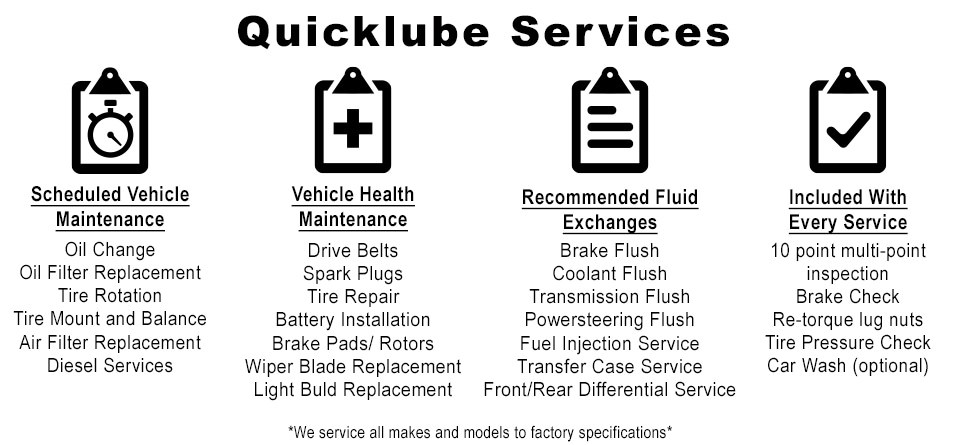 Prolong the Life of your Vehicle 
Regular vehicle maintenance is vital to prolonging the life of your vehicle. Scheduled services are just one way to ensure a long, trouble free driving experience. Of course every vehicle is not created equal. We perform a thorough 10 point multi-point inspection on every vehicle to check the health and well-being of your vehicle. This inspection is included with every service we do here at Ressler Quick Lube because we believe knowing your vehicle's health will increase the life expectancy. We want a customer for life and we work hard to provide you with precise knowledge and trained technicians to prolong the life of your vehicle. 
Schedule your service today and put your trust in Ressler Quick Lube.