2018 Toyota Tundra in Bozeman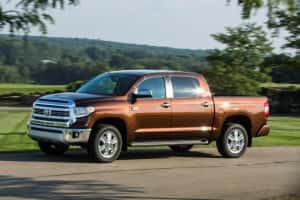 When life demands a big, bad, truck, the 2018 Toyota Tundra is the exact one that you have been looking for. This workhorse is not only ready to get down to business, it is ready to haul, tow, or carry just about anything that you can throw at it. Or, if you are looking for a truck to bring the camper to the mountain or the boat to the reservoir, the Tundra is more than capable. Come see why your next truck should be a Tundra with the friendly, knowledgeable sales staff of Ressler Motors – you will be glad that you did.
Power on Demand
When it comes to a truck, what it always seems to come down to is power. Power to carry, tow, and to handle those situations that require your truck to work harder than any normal vehicle would be expected are all within the job description of the Tundra. This truck comes with an impressive range of horsepower offerings from 310 to 381 horsepower depending on the configuration that you choose. Build yours today with the staff or Ressler Motors, and get power on demand when you need it from your new Tundra.
The Right Truck
While there are certainly plenty of choices out there for your next new truck, none of them give you the combination of features, good looks, and power that you get from the 2018 Toyota Tundra. Whether you are looking for a work truck or play truck, you can get the right one with ease. That is because the Tundra is available in 5 different models designed to give you exactly what you are looking for out of your new truck. Find yours at Ressler Motors, and get the right truck at the right time.