2018 Toyota Tacoma in Bozeman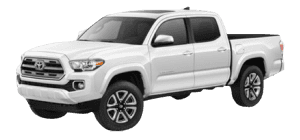 For a great looking truck at a great price, the 2018 Toyota Tacoma is a great option. This hard-working, hard-playing truck gives you that great Toyota quality, off-road capability, and unparalleled good looks that you have come to love out of every Toyota vehicle on the market. Whether or not you have driven one before, there simply is no better time than now, and no better place than Ressler Motors of Bozeman Montana. So, the next time you are in the market for a great new truck that you are guaranteed to love, check out the Toyota Tacoma, and you won't be disappointed.
Get Off The Beaten Path
The Toyota Tacoma was built with those people that love to leave it all behind and get off the beaten path. So, if you are one of those people, this is the truck for you. Off-road capabilities abound in the Tacoma with features like Multi-Terrain Select and Crawl Control that make getting where you need to go a breeze. These combined with all the other offroad enabling features will make you wonder why it took you so long to look into a Tacoma. Get yours today at Bozeman's home for everything Toyota – Ressler Motors.
Technology That Makes Sense.
Every vehicle comes with technology features, but all those technology features do not always make sense. The 2018 Toyota Tacoma gives you those features, but in a meaningful way that enhances your experience behind the wheel. An integrated backup camera, Qi-compatible wireless charging, a standard GoPro mount on the windshield, and many other features give you control of your technology experience while you are on the go. Experience them all in Bozeman at Ressler Motors today.