Madison Gallatin Trout Unlimited
Madison-Gallatin Trout Unlimited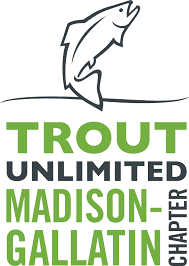 The Madison-Gallatin Chapter of Trout Unlimited was founded in 1968 by Bud Lilly, Dan Bailey, Pat Sample Halterman, Bud Morris and John Peters. This initial idea for the group was created because of mutual concerns over southwest Montana fisheries, including habitat impacts, and the threat of a dam on the Yellowstone River. Habitat issues and dams have continued to be key concerns of the Chapter over the years.
Other key issues the Madison-Gallatin Chapter has been actively involved in were the implementation of the wild trout management program in the 1970s and the efforts to protect stream access in the 1980s. Most recently the Chapter has been active in native fish restoration issues involving the arctic grayling and the westslope cutthroat trout.
Today, the The Madison-Gallatin Chapter has a rich culture of strong advocacy for the Madison and Gallatin watersheds and our native and wild trout.  Today this organization has over 600 members.
The Mission Statement of the Madiso
n-Gallatin Chapter is to conserve, protect, and restore Southwest's coldwater fisheries and their watersheds. The Vision Statement is to ensure robust populations of native and wild coldwater fish once again thrive within Southwest Montana so that our children can enjoy healthy fisheries in their home waters.
Montana Trout Unlimited, or the Montana Council of Trout Unlimited, includes 3,000 members and 12 chapters of TU in Montana. Its mission mirrors that of the national organization. A State Council consisting of representatives from each chapter and six at-large representatives governs Montana TU. Montana TU staff includes three full-time employees in Missoula and one full-time employee in Helena. The State Council meets quarterly at different locations around the state.
If you are interested in becoming a member of MGTU, there are many great reasons to consider. MGTU meet regulary to discuss conservation issues, organize fundraisers, and of course bond over a few good fish tales! All members receive MGTU's ON THE LINE newsletter and TROUT, TU's award-winning magazine. You will also receive four issues a year, full of conservation news, updates on TU activities, grassroots success stories, and fishing destinations. Check out the events that MGTU has up and coming: EVENTS
If you are interested in learning more about Madison-Gallatin Trout unlimited and how you can become involved please click HERE.