How To Get The Best SUV Lease Deals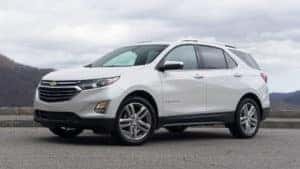 There are plenty of reasons that make leasing a new vehicle a smart choice for a lot of people out there in society today. Whether you are primarily a city driver and aren't looking to put excessive miles on your new vehicle or you are looking for a more affordable way to commute to and from work each day in a roomy SUV with more room than your current vehicle but don't want the long term commitment of a vehicle loan. No matter what your reasons may be for considering a lease, the knowledgeable and experienced staff of Ressler Motors is here to help you understand the steps that you need to take to get the best SUV lease possible on our great selection of Cadillac, Chevrolet, and Toyota vehicles.
What Kind of Incentives Are Available On Your New Cadillac, Chevrolet, or Toyota
One of the most efficient ways to get a great SUV lease is by having the foreknowledge as to what current lease incentives and offers are available to you before you start shopping for a new SUV. This is because incentives can help considerably by reducing the overall cost of your new SUVs monthly lease payment right from the start. While not all incentives are the same from vehicle to vehicle and model year to model year, many are very similar across the board. When it comes to Cadillac, Chevrolet, and Toyota vehicles, there are regularly some great ones that help make your new lease the best lease possible in terms of affordability to you.
Upfront Cash rebates: This rebate most commonly takes the form of money applied to the lease price of your new vehicle to help reduce the overall cost of the lease throughout its lifetime.
Low APR financing Rate: This incentive often takes the form of a low-interest rate on your lease but often comes with certain credit score requirements that must be met in order to qualify for the incentive.
Additional Special leases: When it comes to getting the best SUV lease possible, a dealership may offer to reduce the price of a vehicle to help reduce the overall monthly payment of a vehicle to meet your budgetary needs. While not a certainty, it can definitely make a major impact when present. Look for these lease incentives during specials and sales.
Understanding The Terms and Duration Of Your Lease
For people that are serious about getting the best possible lease on their next new SUV, the best way to get started after choosing a vehicle and before signing final paperwork is to take the time to understand the terms and duration of your lease. This is because when you understand your lease, you are much less likely to be surprised by any mileage restrictions, additional turn-in costs, or other any other variables that may reflect in the final cost of your lease at turn-in. Before signing the final paperwork, you will be notified of any costs that you can expect at the end of your lease such as excess mileage and wear and the process and timeline for a turn in at the expiration of the lease and locations at which the turn in can occur if other than the originating dealership. At this time you should take a minute to ask any questions that you may have so that you can go into your lease with the knowledge that you need to keep it as affordable as possible.
The length of the lease period of your vehicle.
Exactly how much of a down payment is required at the start of your SUV lease.
As per lease guidelines, how many miles you are required to stay below without incurring excess mileage penalties at the termination of your lease.
Any and all costs that may be incurred due to damages beyond normal wear and tear of your leased SUV.
Most importantly: What will be the actual cost of your monthly lease payment plus any applicable costs or fees that will be applied to it that must be paid by you? This is the most important when it comes to getting the best SUV lease deal as understanding this will ensure that you aren't subject to any surprises when your first lease payment comes due.