Three Reasons To Buy a 2017 Chevrolet Spark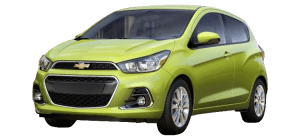 New and experienced drivers alike will find that the 2017 Chevrolet Spark is fun to drive, offering innovative features that are sure to please. We can think of several great reasons to drive the Spark, but here are just a few you might be interested in.
Reason 1: Fun to Drive
There is nothing boring about the 2017 Chevrolet Spark. This subcompact is a blast to drive, maneuvering easily down city streets and into tight parking spots. Perfect in traffic or on open roads, the Spark allows you to feel the road beneath you and execute your next move seamlessly. You'll love driving again in the Chevrolet Spark.
Reason 2: Fuel Efficient
You get great gas mileage in the Chevrolet Spark, making it perfect for long commutes or road trip enthusiasts. The time you spend at the pump can be better spent enjoying the ride, and you'll be the envy of your peers when you can save that extra gas money for something fun. It's just one of the perks of driving the Spark.
Reason 3: Surprisingly Spacious
You may think such a small car would be uncomfortably cramped, but the Spark will surprise you. The Spark comfortably seats four passengers and you can fold down the back row to utilize all 27.2 cubic feet of cargo space. Looks aren't always what they seem in the Chevrolet Spark.