2017 Chevrolet Sonic vs 2017 KIA Forte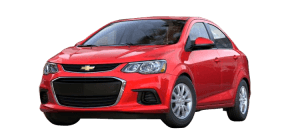 Do you need a compact car that offers the amenities and technology of the high priced options? At Ressler Motors, we can put you behind the wheel of a 2017 Chevrolet Sonic that not only meets your needs but won't break the bank. At its introductory price, the Chevrolet Sonic compares to the 2017 KIA Forte. However, what you will not find is the customized technology and interior flexibility of the Sonic.
Meeting your needs
First, the 2017 Chevrolet Sonic is available in sedan and hatchback. Depending on your needs, either car is a fantastic option because both models have a 60/40 split second row seat. The features and upgrades are available in both models and include rear park assist and a front center console power outlet. At your fingertips you will also find steer wheel controls for volume, audio, and phone integration to keep your focus on the road while staying connected with the home or office. One option that sets the 2017 Chevrolet apart is the optional Chevrolet MyLink technology. MyLink technology allows your smartphone to seamlessly work with the cars system through Apple Carplay or Android Auto. This is 21st century feature that the 2017 KIA Forte cannot match. There is much to be desired about the interior of the Forte with its tight interior that is quick to remind you that you are in a compact car.
Safety First
Not only will the Sonic keep you entertained, it will keep you safe. This vehicle is built with a ten airbag system, brake assist, and rear vision camera. Safety features also include the OnStar system that keeps you connected when you or your passengers need assistance. Just because this car is small does not mean it is not might in features and luxury. Our team at Ressler Motors wants to show you just how impressive the 2017 Chevrolet Sonic is by taking you out for a test drive. Experience the sedan and the hatchback to decide which fits your lifestyle!