Three Reasons To Buy a 2017 Chevrolet Impala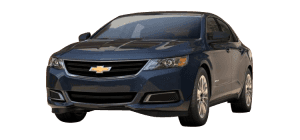 The 2017 Chevrolet Impala is a great addition to your garage when you need something comfortable for clients and family. You might have your own reasons for driving an Impala, but we've got our favorite reasons below that make the 2017 Chevrolet Impala a great choice.
Reason 1: Perfect Styling
The 2017 Chevrolet Impala is the perfect blend of sleek style while still being family friendly. The spacious cabin allows people of all sizes to stretch out and relax, and you'll hardly notice the road beneath you thanks to the smooth ride. After a long day at work, the Chevrolet Impala is there to comfort and relax.
Reason 2: Latest Technology
Stay connected in the Chevrolet Impala with available 4G LTE Wi-FiⓇ for all of your mobile devices. Compatible with Android and Apple, you can answer calls and texts without taking your eyes off the road. And the in-dash display shows useful apps like navigation and entertainment. It's easy to be connected in the Chevrolet Impala.
Reason 3: Fuel Efficient
You might not believe that a family sedan like the 2017 Chevrolet Impala could be fuel efficient, but it's true! The Impala gets great gas mileage, allowing you the freedom to run errands, head to work, and make it to the kids' activities without worrying about your tank. And less time at the gas station means more money in your pocket.