2017 Chevrolet Equinox vs 2017 Toyota Rav4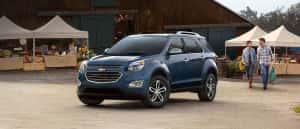 The 2017 Chevrolet Equinox is your stepping stone from a mid sized car to an SUV that gives you the luxury of additional cargo space without the bulkiness and gas milage of an oversized vehicle. Not only does the 2017 Chevrolet Equinox come equipped with style and comfort, you will find options that will make your family excited for a road trip. The 2017 Chevrolet Equinox at Ressler Chevrolet stands apart from its competition. When compared to the 2017 Toyota Rav4, the cargo volume is the tip of the iceberg that makes the Equinox a clear winner.
Interior Amenities
The 2017 Chevrolet Equinox boasts a cargo volume to the front seats of 63.7 and a cargo volume of 31.5 to the second row. When the second row folds down, you have more than enough room to load up for a weekend of camping or pick up new seating for the family room. The 2017 Toyota Rav4 boasts a little more room, but lacks the perks of cargo outlet adapters that change the game of your tailgating parties or long days at a soccer tournament.Other interior features of the 2017 Chevrolet Equinox include ambient lighting, seat memory settings, and remote start. You have to slide behind the wheel to experience the luxury of this sports utility vehicle.
Built for Performance
The curb appeal of the 2017 Chevrolet Equinox is unmatched compared the 2017 Toyota Rav4. The sporty physique, when compared to the stout shape of the Rav4, boasts style and class without being overbearing. The combined EPA fuel estimate of 23 miles per gallon compared to larger SUVs by keeping more money in your pocket. Built for five passengers, this SUV is accented by chrome details and deep tinted glass on the back passenger windows. Ressler Motors is proud to share the 2017 Chevrolet Equinox with you today!