2017 Chevrolet Equinox vs 2017 Jeep Compass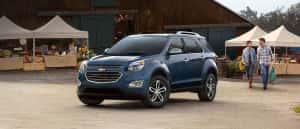 Side by side, the features and functions of vehicles become more clear. The 2017 Chevrolet Equinox and the 2017 Jeep Compass compete to be the best SUV on the market, but are drastically set apart in style and features.. Excellent fuel economy, generous passenger and cargo space, and custom upgrade features are so closely matched that you can find yourself in need of clarity. The 2017 Chevrolet Equinox at Ressler Motors could be the vehicle of your dreams and we want to get you there!
Style for the Right Looks
Looks are everything on the road, and the Equinox and the Compass definitely have their own style. The smooth lines of the Equinox's body and frame reflect a 21st century style fit for families and first impressions. On the other hand, the body style of the 2017 Jeep Compass has a tone and details that lend to a hike up mountain terrain. Both vehicles seat five passengers and cargo space to keep your ready for your hauling, packing, and travel needs.
Safety First
In a world this fast paced, one of the biggest concerns is vehicle safety. To ensure you commute with ease, the 2017 Chevrolet Equinox comes standard with a six airbag system that includes sensors to detect collision force and airbags to keep you and your passengers safe. A standard rear vision camera is an additional measurement to keep you aware of your surroundings. Upgrades in the Chevrolet Equinox include all wheel drive and rear park assist. Features to prevent and protect are important, but the response on OnStar guidance specific to the 2017 Chevrolet Equinox. In comparison, the 2017 Jeep Compass also comes standard with a backup camera and comprehensive airbag system, but does not offer an automatic crash response system.