2017 Chevrolet Equinox vs 2017 Hyundai Santa Fe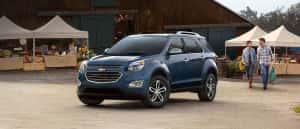 The 2017 Chevrolet Equinox and the 2017 Hyundai Santa Fe are in tough competition with each other when it comes to style. However, with a higher price tag, the Santa Fe is going to cost you if you want to customize your next vehicle.. Excellent fuel economy, generous passenger and cargo space, and custom upgrade features are so closely matched that you can find yourself in need of clarity. The 2017 Chevrolet Equinox at Ressler Motors could be the vehicle of your dreams. Visit us today to find out why the Equinox fits your lifestyle!
Classic Style and Flexibility
If style is what you're looking for, the Equinox is the winner. In the Equinox, the sporty, yet sleek exterior lines give a lasting impression that is not dated. The longer body of hte 2017 Hyundai Santa Fe leaves something to be desired. While the Equinox seats five passengers, and the Santa Fe seats seven, you'll give up cargo space and comfort with the latter option. One feature that makes the Equinox distinct is the upgrade to the MyChevrolet software that makes integrating technology a breeze with controls to the vehicle from an app on your phone. If these features match your criteria, make a plan to visit Ressler Motors and find the one for you!
Fuel Economy
The last detail that puts the Equinox on top is the fuel efficiency of vehicles. The 2017 Chevrolet Equinox has an EPA fuel estimate of 31 miles per gallon on the highway and 21 miles per gallon in the city. On the other hand, the 2017 Hyundai Santa Fe offers 23 miles per gallon the highway and 17 miles per gallon in the city. Not only is the sticker price higher on the Santa Fe, your wallet will feel the cost every time you visit the gas pump. Make your wallet happy and put your mind at ease by choosing the 2017 Chevrolet Equinox.