Three Reasons To Buy a 2017 Chevrolet Cruze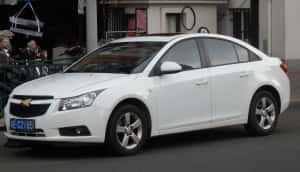 The 2017 Chevrolet Cruze is a stylish and fun car with the added bonus of being available as a sedan or hatchback. From city streets to country roads, the Cruze performs well wherever it goes. Here are three reasons you should consider the 2017 Chevrolet Cruze for your next vehicle.
Reason 1: Two Style Options
The 2017 Chevrolet Cruze comes in two design options–the hatchback and sedan, so you can choose the best fit for your driving needs. Whether you need a traditional sedan for work or want the hatchback for easy-access and storage, you can pick your option in the stylish Chevrolet Cruze. Then get ready for a great ride mile after mile.
Reason 2: Fuel Efficiency
Along with being adaptable, the Chevrolet Cruze is incredibly fuel efficient, achieving up to 40 mpg on the highway, and giving you the freedom to drive farther without worrying about filling up the tank. From road trips to daily commutes, you can do more in the Cruze.
Reason 3: Tech Connected
If you want you next car to have all of the latest technology, then the 2017 Chevrolet Cruze is the car for you. From safety features like OnStarⓇ to an in-dash display that keeps you up-to-date with necessary apps like navigation, the Cruze has it all. Did we mention the available 4G LTE Wi-FiⓇ? This helpful feature allows passengers to connect their mobile devices, giving them access to the internet without using their data.