Used Toyota 4Runner Near Bozeman, MT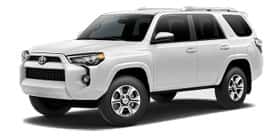 Yes, there is a better way to get to and from work and wherever else you want to be. When you choose a used vehicle like a Toyota 4Runner from Ressler Motors, you are going to get an affordable, fun to drive, and exciting way to travel. Whether your road leads you to a point where there are no roads at all or you spend your nights and evenings uptown, there is no place that the 4Runner can't take you. So, if you want to get a better vehicle, a more comfortable way to get around, and simply a better automotive experience in general, find your way to Ressler Motors in Bozeman, and drive home in a Toyota 4Runner.
Plenty of Seating and Cargo For Everyone
When it comes to seating and cargo space in your next SUV, the Toyota 4Runner offers up the best of both worlds with seating for up to five paired with 89.7 cubic feet of cargo space to fit all of the gear that you need when you get to your destination. Whether you are headed across the country on your next big road trip or headed to the mountains for the weekend, enjoy your commute just as much as reaching your destination with a used Toyota 4Runner from Ressler Motors in Bozeman.
Plenty of Options to Choose From
When you take the time and effort to shop for a used vehicle, you want to know that you are getting the best prices and best selection possible. When you shop with Ressler Motors in Bozeman, Montana, you are going to get a wide selection of Toyota vehicles, like the 4Runner, that are going to make that trip worthwhile. Roomy, affordable, and great-looking, you owe it to yourself to check out the 4Runners that we have available. Great times, great vehicles, only at Ressler Motors of Bozeman.