Toyota Camry Near Bozeman, Montana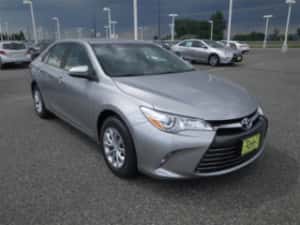 The number one rated mid-size sedan, it is one of the best overall performing cars in its class. It's an enjoyable car to drive that is fuel efficient and is packed full of technology. The wonderful staff at Ressler Motors in Bozeman have the Camry that you are looking for.
The Performance Sedan
The Camry offers many different drivetrain and engine combinations in both four and six-cylinder models. An eight-speed automatic transmission provides a smooth ride in both the city and on the highway. The Camry comes available with a sports gauge cluster along with a sports mode with paddle shifters for those looking for a sporty ride. The Camry allows the driver to choose between three different driving modes: ECO, Normal, and Sport. This gives the driver the ability to personalize your driving experience. With estimated miles per gallon of 41 on the highway and 30 in the city, the Camry can keep you on the road longer.
Safety Comes Standard
The Camry isn't only about power and performance, it is big on safety as well. The ability to auto brake with a collision alert and blind spot monitoring with rear cross traffic view allow the Camry to be safe and fun to drive. The Camry doesn't stop there though. The Camry also boasts rear park assist and back up sensors. Whether you are looking for a safe, reliable car or a sporty car, you can find both in the Toyota Camry. Ten airbags along with Toyota Care and standard lane departure alert come standard on the Camry. If you would like to test drive a Camry, then make your way down to Ressler Motors in Bozeman, Montana to try out your perfect Camry today.