Bozeman Saddle-ites
Bozeman Saddle-ites
 Originated in 1958, as a branch of the Gallatin Saddle and Harness Club, Bozeman Saddle-ites are the premiere mounted drill team in Southwest Montana.  They are an all female team which is composed of volunteers who donate their time to perform in parades, rodeos, and special events from April through October each year. These women come from different career backgrounds, from small business owners, nurses, administrative assistants, moms, and conservationists to name a few.  Some of these women learned to ride as adults and some of the women have grown up on horses.  Conclusively, they all join together for the camaraderie, the patriotism and to learn the true value of teamwork. Together, they join to share the love of horses and the challenges and rewards of a mounted drill.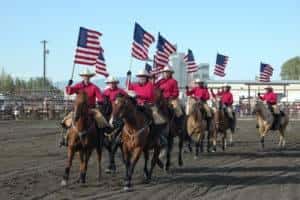 The Livingston Roundup and Parade their first event each year. The Saddle-ites are featured each night in a pre-rodeo performance. They also perform in the presentation of their sponsor flags during the rodeo grand entrance.
During the peak summer season, the Saddle-ites travel and commute all over southwest Montana. They perform in rodeos in Gardiner, White Sulphur Springs and Wilsall. Their performances include Belgrade's Fall Festival in September and Montana State University's Homecoming Parade in October.
The Saddle-ites' biggest challenge every year,  is the turnover rate, said Jones, 44, a Bozeman medical assistant. To be a devoted Saddle-ite is a huge time commitment, and most members are "working gals" with families.
A great deal of practice is required to perfect difficult maneuvers, which are often choreographed to patriotic or Western music. The women and horses learn the pinwheel, the arrow, the do-si-do, the zipper, open-the-gate, wedding rings and the "suicide pass-through." The Saddle-ites have a full-time coach, Andrea Andres, to help them perfect these drills.
The group has 13 local business sponsors, that donate funds which help negate the cost of outfitting the horses.
If you are interested in this organization and how you can become involved please click HERE.