Bozeman Kiwanis
Bozeman Kiwanis
Kiwanis International originated in 1915 in Detroit, Michigan, and has developed into an international organization with the formation of the Kiwanis Club of Hamilton, Ontario, in 1916.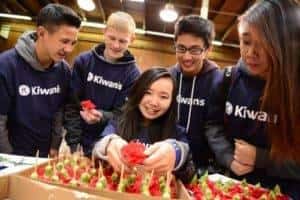 In the starting years, members focused solely on business networking but in 1919, the organization changed its focus to service. In the 1960s, worldwide growth was encouraged and within the decade, Kiwanis International-Europe was formed, representing Kiwanians in 11 European nations. In 1987, women officially were allowed into the membership.
Service is the primary objective of every KI club, all across the world. The members generate nearly 150,000 service projects, devote more than 6 million hours of service and raise nearly US$100 million every year for communities, families, and projects. Key Club members pitch in 12 million hours of service each year, and CKI members another 500,000 hours of service!
Kiwanians once again united with UNICEF to confront a crisis affecting children all over the world. In June 2010, they announced The Eliminate Project: Kiwanis eliminating maternal/neonatal tetanus.  This project's objective is to save 129 million mothers and their future babies from the disease by the year 2015.
The six permanent Objects of Kiwanis International were approved by club delegates at the 1924 Kiwanis International Convention in Denver, Colorado. Through the decades, they have remained unchanged.
To give primacy to the human and spiritual rather than to the material values of life.
To encourage the daily living of the Golden Rule in all human relationships.
To promote the adoption and the application of higher social, business and professional standards.
To develop, by precept and example, a more intelligent, aggressive and serviceable citizenship.
To provide, through Kiwanis clubs, a practical means to form enduring friendships, to render altruistic service and to build better communities.
To cooperate in creating and maintaining that sound public opinion and high idealism which make possible the increase of righteousness, justice, patriotism, and goodwill.
If you would like to learn more about this organization and how you can become, please click HERE.