2018 Toyota Yaris For Sale in Bozeman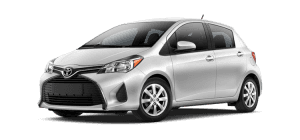 For many people, owning a subcompact car is a way to get a brand new car at an affordable price. For others, it's a matter of finding the perfect car to fit your lifestyle and personality. No matter what reason you choose to own a subcompact car, choose the 2018 Toyota Yaris. The Yaris gives you a unique, and bold way to make a statement with what you drive. Great features, an affordable price tag, and excellent fuel economy are just a few of the reasons why you should be driving a Yaris. See why this subcompact simply makes sense with the friendly, knowledgeable sales staff of Ressler Motors in Bozeman Montana today.
Affordable and Efficient
One of the great things about owning a subcompact car is just how affordable it can be. The 2018 Toyota is no different. With a highly affordable MSRP starting price of around $15,635, there is plenty of meat left on the bone to get that trim level or available feature that you have always wanted. Add in an efficient EPA estimated fuel economy of 30 mpg city and 36 highway, and you have the perfect subcompact. Find one on the lot of Ressler Motors of Bozeman, or let us help you build the perfect one to meet your needs and exceed your expectations. We promise that you will be glad that you did.
A Personality All Its Own
The 2018 Toyota Yaris dares to be different, and it dares to be bold by standing out from the crowd. The redesigned exterior lends itself to more curb appeal than ever before in this model year. An LED daytime running light bar makes for a bold statement. The refreshed dashboard makes your display more functional and well laid out. The available 16" machined alloy wheels bring it all together. Get yours at Ressler Motors of Bozeman Montana, and make a statement wherever you go in a Yaris.