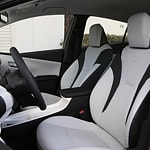 The newest Prius from Toyota upholds this brand's reputation for making popular and durable cars. The Prius' popularity right now is owed in part to its innovative interior features. Discover why the Prius can be the ideal hybrid compact sedan for you today.
For a compact sedan, it offers plenty of cargo space that you need for hauling groceries, school supplies, camping gear, and other belongings. You get ample space even with the back row of seating upright. However, once you put those seats down, the space for cargo increases to dozens of feet.
The inside of the Toyota Prius also has a split-fold seat in the back that you can lower and raise as needed. You can leave the larger part of the seat up for accommodating passengers while folding down the smaller part of the seat for cargo. You can customize the back end of your car to suit your needs.