2018 Toyota Rav4 Vs 2018 Ford Edge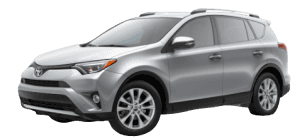 Choosing the right compact SUV can be a difficult process. With so many great choices out there, it takes some leg work to get the perfect one. Thankfully, the engineers at Toyota have produced some pretty amazing vehicles that you are sure to love. Take for example the 2018 Toyota Rav4. Fun to drive, great looking, and filled with outstanding features; there is something for everyone in a Rav4. Take a look at the Rav4 and compare it to the 2018 Ford Edge to find out which one is the right choice for you.
Outstanding And Affordable
When you are shopping for your next new vehicle, one of the first things that comes to mind is the starting price. That is because most people have a budget in mind right from the start. The 2018 Toyota Rav4 comes with an MSRP starting price of around $24,510. Compare that to the 2018 Ford Edge and a MSRP starting price of around $29,220, and getting the perfect compact at the perfect price becomes clear. Where is your money best spent?
Power, Grace, and Economy
While most people don't think about towing when it comes to compact SUVs, having the ability to use your vehicle to tow is like getting peace of mind that you can't beat. The 2018 Toyota Rav4 offers up a max towing capacity of approximately 3,500lbs, by comparison, the 2018 Ford Edge only gives you 2,000lbs of towing capacity to work with. Match that with the EPA estimated 23 mpg city and 30 mpg highway for the Rav4. The Edge by comparison gives you 21 mpg city and 29 mpg highway to work with.
Find Your New Rav4 at Ressler Motors
When the time comes to make your big decision on the next compact SUV that you are going to spend your hard earned money on, the 2018 Toyota Rav4 gives you plenty of reasons to love it. Whether it's the looks, the features, or the comfort, you can find exactly what you are looking for in one outstanding package. Find your new Rav4 on the lot of Ressler Motors of Bozeman, Montana today.