2018 Toyota Rav4 Exterior Features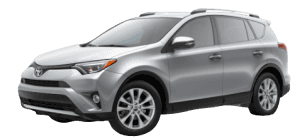 If curb appeal is what you are looking for, then you are going to love the bold, inspired looks that come with the 2018 Toyota Rav4. This great looking SUV not only gets you where you need to go, but it turns heads while you get there. If you are trying to decide on your next new vehicle, then you are going to want to check out this major contender. Take a look at a few of the exterior features that make the Rav4 so special at Ressler Motors of Bozeman, Montana, and find the perfect SUV to fit your life and your budget.
An Exterior You WIll Love to Show Off
With the 2018 Toyota Rav4, beauty is more than skin deep, but the exterior is something that you are going to want to check out. From the inspired color options with matching color trim to the unique S Code Paint Treatment with Silver Accents, getting the right look is a breeze when it comes to the Rav4. Stop by the lot of Ressler Motors and find the right color to fit your personality and turn heads wherever you go.
All About The Features
So, you have found the perfect color scheme to fit your personality, but are wondering how else you can make a statement, have no fear, the Rav4 has you covered. Make the choice between a plethora of different wheel options, an available silver painted bumper garnish, and standard LED lighting, and get the right look, the right color, and the right compact SUV. The 2018 Toyota Rav4 gives you everything that you could possibly want in one great looking package.
Great Vehicles, Great Prices, Ressler Motors
Now that you have the exterior features that you want all picked out, the perfect color combination, and the right trim level, the next step is finding the right dealership to help you put it all together. The name that you need to know is Ressler Motors in Bozeman, Montana. If you have a particular Rav4 in mind, then we can help you build the perfect one. It's as easy as that. Great vehicles, great prices, great selection – Ressler Motors.