2018 Toyota Highlander Vs 2018 Ford Edge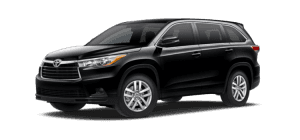 Think of 2018 as the year of great choices when it comes to your next new vehicle. That is because for 2018, the Toyota Highlander is back and as bold and inspired as ever. Whether you need great seating capacity, cargo space, tech features, or anything else, this is the vehicle for you. Take a look at the Highlander, and compare it to the 2018 Ford Edge, and see why owning the Highlander simply makes sense. You are going to love it from start to finish, and everything in between.
Plenty Of Room to Roam
Odds are that if you are looking for a SUV with three rows of seating, having enough room for everyone is a big deal for you. With that in mind, the 2018 Toyota Highlander gives you plenty of spacious, comfortable seating space and room to stretch your legs no matter where you are driving. The Highlander offers up seating space for up to 8, while the 2018 Ford Edge offers up considerably less to the tune of seating for 5. The Highlander also offers you up to 83.7 cubic feet of cargo space compared to the Edge's 73.4. So, if you need to get the whole family to the cabin for the weekend, the choice is clear.
Ready For The Road Ahead
Cargo space and seating capacity are one thing, but the ability to get your toys to your destination with you is another. The 2018 Toyota Highlander gives you a towing capacity of 5000 lbs compared to the Edge's 3500 lbs. Add in the fact that the Toyota Highlander outsold the Ford Edge by 63% during the 2017 model year, and you have something truly special when it comes to your next SUV. Find out why so many people choose the Highlander above the competition at Ressler Motors today.
The Choice is Clear, Choose the Highlander
With so many choices out there when it comes to SUVs, the competition is fierce. When you compare the 2018 Toyota Highlander to the 2018 Ford Edge, the choice is clear for the Toyota Highlander. This great SUV gives you plenty of good looks, seating space, and cargo space to go with the legendary Toyota quality. Stop by the lot of Ressler Motors in Bozeman, Montana, and the choice will become evident to you – the Highlander is the SUV for you.