2018 Toyota Highlander Exterior Features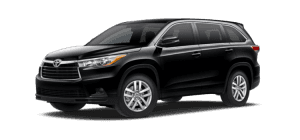 If you are looking for an SUV with just as much character outside as it has inside, then the 2018 Toyota Highlander is the perfect choice. You already know that the interior is filled with comfortable and quality features, so it only makes sense that the interior of the Highlander would end up being equally as impressive. Take a look at a few of these features and decide for yourself whether or not the Highlander checks all of the boxes on your wishlist. We are pretty sure that it will.
Good Looks That Hit You Right In the Face
For many people, the first thing that you notice about a vehicle is its front end. The 2018 Toyota Highlander gives you a bold injection of excitement right from the get go with a front fascia that sets the tone early on. Dynamic and expressive, the front of the Highlander looks aggressive and ready to go. Tie in the alloy wheels, and you are going to have an automotive statement piece that will make a statement wherever you may roam. When is the last time that your SUV could make a statement like that?
Outstanding Color Options To Fit Your Personality
Loving the general shape and stance of a vehicle is a great start, getting the perfect color option to match your personality is the cherry on top. When it comes to the 2018 Toyota Highlander, there are plenty of great color choices to pick from. Choose from the bold and inspired Midnight Black Metallic, the fun Ooh La La Rouge Mica, or even the inspired Alumina Jade Metallic, and you are going to have a vehicle that you love all the way around. Find your perfect color match at Ressler Motors of Bozeman, Montana.
Everything That You Want and Need All In One Location
If you think that you have to travel for miles around to find the right vehicle, you are mistaken. Ressler Motors carries a great selection of the cars, trucks, and SUVs all in one easy to find location. So the next time that you are in the market for the fun to drive, roomy, and great looking 2018 Toyota Highlander, then you are going to want to get to Ressler. Take the drive and find your automotive soulmate in Bozeman today.