2018 Chevrolet Spark vs 2017 Chevrolet Spark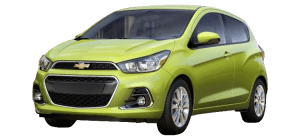 In the crowded world of subcompact cars, there isn't anything quite like the Chevrolet Spark. Whether you are looking for an affordable option for getting to and from work or home from school during the summer, the Spark is the vehicle for you. The 2018 Chevrolet Spark goes the extra mile by giving you a great additional color choice, but keeping all of those other features that you can't live without. 2018 is the perfect year to get into a new Chevrolet Spark; keep reading to find out why.
A New Color Option For 2018
Changes are coming to the 2018 model year of the Chevrolet Spark. The 2018 edition will see the deletion of the Kalamata color option and see the addition of the Sorbet color. This subtle, yet tasteful addition to an already stellar color line up is sure to impress everyone that sees it. There is no better way to appreciate it than in person on the lot of Ressler Motors in Bozeman, Montana. Come see for yourself why more people choose Ressler and more people choose the 2018 Chevrolet Spark for quality and affordability from a subcompact car.
Hard To Improve On Perfection
While there may not be significant changes to the 2018 model year of the Chevrolet Spark, that's okay. After all, it's hard to improve on perfection. Affordable, fun to drive, and incredibly fuel efficient, the Chevrolet Spark is perfect for life on the go. Whether you spend your time on city streets or busy highways, you are going to love this car. Come take one for a test drive at Ressler Motors and see just what you have been missing out on in this remarkable subcompact.
One Location, Great Selection
At Ressler Motors, we love the vehicles that we sell, and we know that you will too. The same goes for the 2018 Chevrolet Spark. This excellent subcompact car is a great addition to an already stellar 2018 lineup. Great fuel efficiency, an affordable starting price, and so many other reasons to say yes to this car are waiting for you. Come take one for a test drive on the lot of Ressler Motors, and enjoy your time behind the wheel more than ever before with an all new 2018 Chevrolet Spark.