2018 Chevrolet Equinox Vs 2018 Ford Edge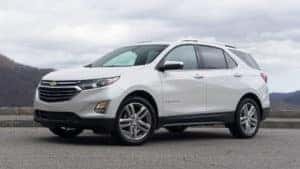 Lets face it, who buys a new vehicle without comparing it to other similar vehicles on the market? No one, that's who. That is because a smart and savvy car shopper takes the time to see what vehicle meets their needs while still staying within their budget. Take for example the 2018 Chevrolet Equinox and all that it offers. Compare the Equinox to the 2018 Ford Edge and making the right choice for your next new compact SUV just got more simple than ever. You just might be surprised at which one meets all of your needs while keeping features and value in focus.
A Great Fuel Economy Is a Must
Affordability is more than a starting price, it is a long term look at the life of a vehicle. That means dependability, durability, and fuel economy. You already know that Chevrolet offers up some of the most dependable vehicles on the market, but did you know they are also very fuel efficient as well? The 2018 Chevrolet Equinox gives you great fuel economy to the tune of an EPA estimated 26 mpg city and 32 mpg highway. Compare that to the 2018 Ford Edge with its 21 mpg city and 29 mpg highway, and the choice is clear when it comes to affordability over the life of your vehicle.
Get More Value For Less Money
If you have a particular budget in mind when it comes to shopping for your next new compact SUV, staying within that budget is a big deal. The 2018 Chevrolet Equinox comes in
with an affordable MSRP starting price of $23,580; leaving you more room to get those available features or that upgraded trim you have been looking for. The 2018 Ford Edge, by comparison, comes in sightly higher with a MSRP starting price of around $29,220. Which one of these two compact SUVs gives you the most flexibility to get the right vehicle at the right price?
Making The Choice Easy
If after doing your homework, you decide that the 2018 Chevrolet Equinox is in your future, then you are going to want to see the great selection and outstanding prices on the lot of Ressler Motors. Whether you are looking to buy or lease, you can count on Ressler to help get you in the perfect vehicle to meet your needs and exceed your expectations. When you shop at Ressler, you never have to settle for anything less than the best vehicles and service in the industry.