2018 Chevrolet Equinox vs 2017 Chevrolet Equinox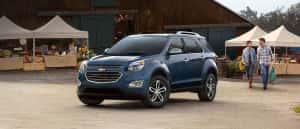 You might think that there is no way the engineers at Chevrolet could improve on the 2018 Equinox, but the 2018 model year brings a few surprises to the table that make it better than ever. Sure, you could stick with your 2017 model year and have a great vehicle, or you could upgrade to 2018 and get more reasons to love the vehicle that you are in. Come see all of the changes in person in Bozeman at Ressler Motors and get the best price around for the 2018 Chevrolet Equinox close to home.
Performance and Upgrades For 2018
One of the biggest ways to make a splash with a new model year of your favorite vehicle is by changing what is underneath the hood. For 2018, the Chevrolet Equinox has undergone some major changes that make it even more exciting. Gone are the 6-cylinder models of 2017 to make way for the turbocharged 4-cylinder models of 2018. Also included is an impressive diesel 1.6L turbocharged 4-cylinder option that makes the new Equinox stand out from the crowd in a big way.
Putting Safety First in 2018
Getting that piece of mind that you are looking for on the road has become a whole lot easier in 2018 with the Chevrolet Equinox. This model year has made some significant changes when it comes to safety with features like Forward Collision Alert, Rear Cross Traffic Alert, Side Blind Zone Alert, and a Rear Vision camera. All of these changes are designed to keep you and your most precious cargo safe while you are on the road. There is no such thing as too safe when it comes to the people that you love.
A Great Place to Discover the 2018 Equinox
Now that you have made the decision to get a new 2018 Chevrolet Equinox, the only thing left is getting one to fit your budget and specifications. So, if you are tired of getting the run around and not finding the perfect one, we can help. At Ressler Motors in Bozeman Montana, we have a great selection of these remarkable vehicles just waiting for you. So, take that trip and see all that we can offer you. Ressler Motors, we are always worth the trip for your new 2018 Chevrolet Equinox.