Three Reasons To Buy a 2018 Chevrolet Equinox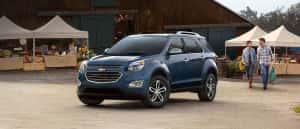 The 2018 Chevrolet Equinox is the best one yet, offering new features not found on other vehicles in its class. Here are just a few reasons we think you'll love stepping into the Equinox time and time again.
Reason 1: Safety
With ten available active safety features, the 2018 Chevrolet Equinox is there for you in the event of an accident, as well as alerting you to prevent one altogether. The Equinox has available lane keep assist with lane departure warning, side blind zone alert, and forward collision alert. There is also the option of directional seat bottom vibrations instead of audible alerts. Drive easy in the safety of the Equinox.
Reason 2: Driving Ability
Some crossovers are clunky and difficult to handle, but the 2018 Chevrolet Equinox offers a smooth ride and sleek body lines, making it the envy of other drivers. LED daytime running lamps keep visibility high and you have the option of an all-wheel drive model so that you can conquer the tough conditions with ease. Did we mention the available 1.6L turbo-diesel engine that gives you great gas mileage? Not to worry – it's quiet as well as efficient.
Reason 3: Convenience
The Equinox is everything you need in a vehicle, from having up to 63.5 cubic feet of cargo space to seating for five. You also get towing capability, making the Equinox the complete package for families on the go and adventurers that need a car that can keep up with them. You'll love putting the Equinox through its paces.