2018 Chevrolet Equinox Interior Features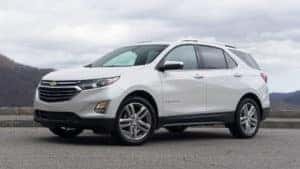 If you spend any time at all behind the wheel, you are going to want to spend your hard earned money on a vehicle that can make that time more enjoyable. That means getting out there and taking one for a test drive to see what interior features are on your wish list before deciding on the right one. Just one test drive is all that it will take and you will see that the 2018 Chevrolet Equinox is more than just another SUV; it is a comfortable way to get where you need to go.
One Look and you Will Know
All it will take is one look at the interior of the 2018 Chevrolet Equinox and you will know that this is the vehicle for you. Bold, elegant, and refined, the interior of the Equinox is designed in a way that gives you both comfort and convenience. The dual cockpit layout of the interior means that weather you are driving or sitting in the passenger seat, you can do it in comfort. Get behind the wheel of the Equinox and see all of the benefits that come with automotive excellence. You have never seen an interior like this one.
Outstanding Tech Features
Great technology features mean that you can stay connected with the world around you. Whether you are driving across town or across the country, entertainment, safety, and ease of use can be a game changer. Apple CarPlay, Android Auto, teen driver technology, and the myChevrolet Mobile App all make for a technology experience like nothing else you have experienced. Get behind the wheel of one today and never think about technology and your vehicle the same way again.
Get More for Less at Ressler
If you have a budget in mind and a wishlist when it comes to picking out your next new vehicle, the friendly staff at Ressler Motors can help you get the best price possible on your new 2018 Chevrolet Equinox. Check out our easy to navigate website, stop by, or give us a call to see all the ways that we can help you drive a new Chevrolet Equinox home today. You are going to love this compact SUV and love this place, guaranteed.