2018 Chevrolet Equinox Exterior Features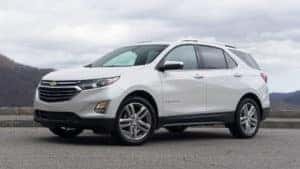 Getting a great compact SUV that not only has great interior features, but also exterior features that are sure to turn heads, is as easy as checking out the 2018 Chevrolet Equinox. The Equinox offers everything that you could possibly want out of your next new vehicle, without the over the top price tag. Never settle for substandard quality and looks, check out all of the bold features of the 2018 Chevrolet Equinox and fall in love with your daily driver at first glance. We know that you are going to love it inside and out.
Making Your Life Easier
When is the last time that your compact SUV offered up exterior features that made your life easier? For most people, that answer is never. If you happened to take a closer look at the 2018 Chevrolet Equinox, you would find convenient features, like the available hands free liftgate, that are exactly what you are looking for. A programmable memory height means that your new Equinox is ready to work hard for you and make your life just a little bit easier. Get more out of your daily driver; get an Equinox.
Good Looks and More
There are so many reasons to love the 2018 Chevrolet Equinox that it's hard to name them all. A few of the big ones are a great full spectrum of color choices to help you find the right one to fit your personality. Add in LED daytime running lights and a bold, sculpted body design, and you are not going to have a hard time finding something to love about your new SUV. After All, the Equinox has something for everyone, including you.
Choose Ressler Motors For Your New Equinox
Whether you currently live in Bozeman or anywhere else in the great state of Montana, getting the right vehicle for the right price doesn't get any easier than getting down to the lot of Ressler Motors. We have an outstanding selection of the best vehicles on the market today; including the new 2018 Chevrolet Equinox. Browse our website, give us a call, or stop by our lot and see just how easy bringing home your new Equinox can be. Great cars, great people, Ressler Motors of Bozeman Montana.