2017 Chevrolet Impala vs 2017 Toyota Avalon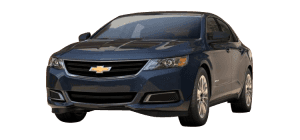 The introductory price of the Impala is the first win for this sedan over the Avalon. With upgrades and options available at three tiers, you can truly customize your car to fit your needs. Upgrades include safety features like lane sensing and rear park assist. Take the guess work out of how close of a call you want to make in the road by choosing the Impala. If safety is a priority, every Chevrolet comes with OnStar to keep you connect and in contact with help at a moment's notice. No other vehicle, not even the Avalon, has this kind of reliable and responsive system integrated into the car. Finally, optional Chevrolet MyLink technology integrated vehicle controls and diagnostic reports through an app on your smartphone. The platforms also allows you to integrate your entertainment system through Apple CarPlay or Android Auto.
Take the Impala for a test drive!
The Chevrolet Impala has an EPA fuel estimate of 22 miles per gallon in the city and 30 miles per gallon on the highway. The 2017 Toyota Avalon has slightly better fuel economy, but the introductory price is also higher. Visit our team at Ressler Motors to experience the excellence of the 2017 Chevrolet Impala yourself!