2017 Chevrolet Equinox vs 2017 KIA Sorento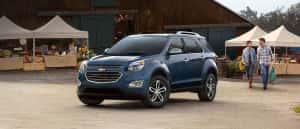 Are you ready to upgrade your vehicle? If more storage and a spacious interior are on your checklist, the 2017 Chevrolet Equinox is an honest option. If you want to scale back from a larger SUV, but want require AWD and flexible interior, the Equinox can also fit your needs. Not only can this vehicle be upgraded and customized to meet your needs, it will keep you on the road in style. When compared to the 2017 KIA Sorento, the Equinox offers more ways to integrate your technology into the vehicle and ways to customize features with technology and performance. Ressler Motors has the 2017 Chevrolet Equinox perfect for you!
Equinox Has Performance To Impress
The curb appeal of the 2017 Chevrolet Equinox is unmatched compared the 2017 KIA Sorento. The sporty physique– when compared to the district dated curves of the Sorento– boasts style and class without being overbearing. Subtly is the mark of the Equinox. The combined EPA fuel estimate of 23 miles per gallon compared to larger SUVs by keeping more money in your pocket. Built for five passengers, this SUV is accented by chrome details and deep tinted glass on the back passenger windows. While the Sorento seats up to seven, it is at the sacrifice of cargo space.
Technology for your lifestyle
If style is what you're looking for, the winner is simple: the Equinox. The sleek exterior lines, spacious passenger room, and flexible cargo space allow the Equinox to be versatile to fit your needs. While both sports utility vehicles, the technology sets them apart. The MyChevrolet software makes integrating technology a breeze with controls to the vehicle from an app on your phone. The 2017 KIA Sorento offers similar integration the UVO. The only way to know that the 2017 Chevrolet Equinox is right for you is to visit Ressler Motors!