2017 Chevrolet Equinox vs 2017 Honda CR-V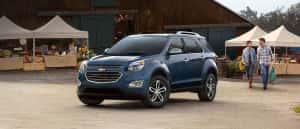 If you are in the market for a budget friendly sports utility vehicle that is spacious and full of style, the 2017 Chevrolet Equinox is the right choice for you. Ressler Motors offers you the friendliest service, and we will happily find the Equinox of your dreams today! When it comes to making plans for a day trip to the mountains or a long drive to the lake, the last thing on your mind is how comfortable you will be and how much stuff can you bring. Mapping out your trip is a lot less stressful when you are driving a Chevrolet Equinox. Vehicles in this class cover a wide range of features, but when it comes to performance and price, even the 2017 Honda CR-V cannot outscore the 2017 Chevrolet Equinox.
Amenities to make you breath easier
The 2017 Chevrolet Equinox comes standard with a six airbag system that includes sensors to detect collision force and airbags to keep you and your passengers safe in the ugliest collision. The rear vision camera also comes standard in the Equinox so that you are always aware of your surroundings, even when they are hard to see. In comparison, the 2017 Honda CR-V enters the market at a higher MSRP sticker price with the same amenities. Upgrades in the Chevrolet Equinox include all wheel drive and rear park assist. You can truly build the SUV of your dream and stay within a budget.
Start Shopping
The 2017 Chevrolet Equinox at Ressler Motors offers more than a new vehicle. It makes you a customer for life. So whether you need regular maintenance or are looking to customize your new ride, our team is here to make it happen. Your next vehicle is waiting for you!