2017 Chevrolet Equinox vs 2017 Ford Escape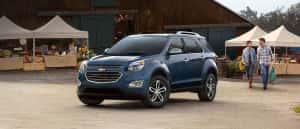 When comparing apples to apples, there's a lot that can overlooked. The 2017 Chevrolet Equinox and the 2017 Ford Escape are in tough competition with each other. Excellent fuel economy, generous passenger and cargo space, and custom upgrade features are so closely matched that you can find yourself in need of clarity. Ressler Motors is excited to offer you the 2017 Chevrolet Equinox by taking you for a test drive in the vehicle of your dreams. Look no further than the sleek style and interior comfort of the 2017 Chevrolet Equinox.
Performance and Interior
The 2017 Chevrolet Equinox has an EPA fuel estimate of 31 miles per gallon on the highway and 21 miles per gallon in the city. On the other hand, the 2017 Chevrolet Ford Escape offers 31 miles per gallon the highway and 23 miles per gallon in the city. Both vehicles are stacked with comparable safety features, including a LATCH system and optional parking assistance. The Equinox comes standard with a 7" touch screen display, bluetooth connectivity, and SiriusXM radio. Ressler Motors wants you to test drive the 2017 Chevrolet Equinox today!
Classic Style and Flexibility
If style is what you're looking for, the winner is simple: the Equinox. The sleek exterior lines, spacious passenger room, and flexible cargo space allow the Equinox to be versatile to fit your needs. While both sports utility vehicles sit five passengers, the technology is also similar. The FordPass and MyChevrolet software makes integrating technology a breeze with controls to the vehicle from an app on your phone. The only way to know that the 2017 Chevrolet Equinox is right for you is to visit Ressler Motors and find the one for you!