2017 Chevrolet Equinox vs 2017 Ford Edge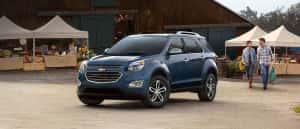 The market for sports utility vehicles is overloaded with options of vehicles that are spacious and full of style. Of the top options, Ressler Motors is excited to show you the 2017 Chevrolet Equinox. Ressler Motors offers service tailored to your needs so that there is no compromise when it comes to options and price. You may be in the market for a new vehicle so you can upgrade or downsize. Either way, the 2017 Chevrolet Equinox has the mobility of a sedan with the performance of an SUV. Vehicles in this class cover a wide range of features, but when it comes to performance and price, even the 2017 Ford Edge cannot outscore the 2017 Chevrolet Equinox.
Interior Excellence
Let's face it, there is never enough space. What makes the cargo space of the 2017 Chevrolet Equinox is that when the second row folds down, there is a volume of 63.7 cubic feet in the back. Just to the second row, you will find a volume of 31.5 cubic feet. Stop worrying if a new living room chair or that vintage cabinet with fit! In comparison, the 2017 Ford Edge boasts a little more room, but also enters the market at a significantly higher price point. The 2017 Chevrolet Equinox include ambient lighting and remote start. Chevrolet MyLink can be compared to similar technology in the Edge. Mylink gives you the options to connect your vehicle and integrate your entertainment through Apple Carplay or Android Auto.
Efficiency set Partr
Your wallet will be conscious of the money you put into the tank with the 2017 Chevrolet Equinox. The EPA fuel estimate is 31 miles per gallon on the highway and 21 miles per gallon in the city. Coming in at second place, the 2017 Chevrolet Edge 27 miles per gallon the highway and 20 miles per gallon in the city. Ressler Motors wants you to test drive the 2017 Chevrolet Equinox today!